IFRS Implementation
In 2011, all publicly accountable enterprises ("PAEs") are going to be changing their accounting framework from Canadian generally accepted accounting principles ("Canadian GAAP") to International Financial Reporting Standards ("IFRS"). PAEs will have to prepare their financial statements in accordance with IFRS for interim and annual financial statements beginning on or after January 1, 2011. The Canadian Securities Administrators recently released CSA Staff Notice 52-320, which outlines the disclosure requirements relating to each financial reporting period in the three years leading up to the IFRS changeover. Organizations will be required with December 31st year ends will therefore be required to disclose elements of their plan and the effects IFRS will have on their financial statements and operations starting in the December 31, 2008 MD&A.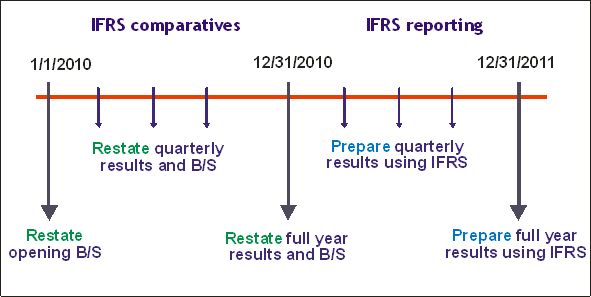 This is not just adopting a new accounting policy. IFRS is a completely new accounting framework. Since one year comparatives will be required, organizations will need to be ready for IFRS in 2009 in order to capture the information and data in 2010. Since Canadian GAAP financial statements will still need to be prepared in 2010, organizations will have to prepare two sets of financial statements in 2010; one set under Canadian GAAP and the other under IFRS.
Converting to IFRS is a fundamental accounting change for PAEs that may require significant time and resources to complete.
The general plan is for Canada to adopt IFRS without modification to avoid creating Canadian IFRS standards which would defeat the purpose of global convergence and creating one set of high-quality accounting standards. In a few instances, this approach will lead to Canada abandoning a Canadian standard to adopt a less refined and older IFRS standard. This could result in two changes; one in 2011 when we adopt the IFRS standard, and a second change to a revised IFRS standard.
FocusROI has a comprehensive process for guiding your organization through the transition to IFRS that goes beyond identifying the components of financial reporting which will be impacted to address your accounting systems and processes that will be affected in the IFRS transition. The main elements of a transition are outlined in the chart below:
Initiation

Assessment

Planning

Implementation

Monitoring

Steering committee
Project plan
Orientation

GAP analysis
Stakeholder impact
Syst./process review

Prepare IFRS policies
Systems/controls impact
Training
Communication

Finalize IFRS policies
Quantification of differences
Make policy and IT changes
Dry run of systems/controls

Monitor standards
Periodic or systematic monitoring
On-going testing
Reducing audit costs
A lot of unnecessary time can be spent in performing audit engagements.
This is often a result of:
1. Incomplete knowledge of the CAS (ISA) requirements.
This creates uncertainty about what is really required. The safe course of action is simply to complete all the standard audit forms and checklists rather than using professional judgment to scale the work according to the size and complexity of the entity being audited and the risks involved.
2. Treating the requirement to assess risk as just an "add on".
Treating risk assessment as just another procedure can result in a complete disconnect between assessed risks and the amount of substantive work performed. Assessment of risk is a crucial first step in focusing audit effort toward areas where there fraud or error could occur and away from the low risk areas.
3. Poor audit workflow
This can include:
a. Inefficient allocation of staff and other resources.
b. Poor staff training on performing audits.
c. Little effort made to plan engagements properly. In some cases the engagement partner may not even be present.
d. Not customizing audit forms and checklists for the types of entity being audited.
e. Poor supervision and staff communication throughout the audit.
f. Engagement files being reviewed well after the fieldwork is over.
4. Poor attitudes held by engagement partners
The engagement partner sets the tone for the audit. A negative attitude can be contagious.
How FocusROI can help.
Email us at info@focusROI.com for details of:
· our low cost practice efficiency self-assessment tool or
· a practice efficiency assessment performed by one of our staff.
Based on the results we will work together to prepare a customized plan of action to help you reduce audit costs.
Practice managment
FocusROI can provide assistance in the following areas:
· Quality Control
Writing/updating the Firms Quality Control manual including development of policies and procedures.
· Engagement workflow
Office automation, time and billing, scheduling, use of software tools, engagement planning, supervision and review.
· HR management
Recruitment, performance appraisals, development plans, discipline and termination.
Tailered audit forms
The tailoring of audit forms for clients with common characteristics can save considerable time and result in a better audit. This could address clients in the same type of industry, not for profit clients, very small clients and those with similar risk profiles.
Send an email to info@FocusROI.com for more details.